What is a landing page ?
A landing page is a website page that aims to convert a visitor into a lead. It is a marketing tool that has become very important for gathering information or obtaining new customers; it helps reinforce the key stages of the customer path. They are offered at certain moments to deliver content to the prospect that meets a need in exchange of information. Its purpose is to convert the visitor into a customer or to encourage a user to give his details.
Why is it important to have a landing page ?
Companies are looking to develop their traffic and acquire new prospects who can potentially become future customers, converting traffic into customers is the primary objective: this is where the landing page comes in. It transforms visitors into customers, its objective is to encourage the user to perform an action, fill in their details, buy… etc.
The final goal of any landing page is conversion. It is important to optimise your landing page so that the reader not only wants to read the landing page but also to convert into leads, so that they want to know more about the offer. Below we present the different steps you can take to create an effective landing page.
Steps to create an effective landing page
1 – Define a single objective for your landing page
1 landing page = 1 objective
Some companies often make the mistake but a landing page should only be associated with one objective so that the prospect knows exactly what the page is about and is not drowned in information. On reading the first few words, the prospect should put a theme on the landing page.
The objectives of a landing page can be various:
Signing up for a newsletter

Purchase of a product

Collecting contact details from your visitors

Offering a white paper for download

Search for a premium service

Registration for a training course

Information about a product or programme

The launch of a website

Requesting a quote from the prospect

Engagement on social networks

Downloading an application…etc
2 – Optimising the offer
The offer that you propose on your landing page must respond to a problem, to a need for your target. It is therefore necessary to define your buyer personas in order to orient your strategy and meet their needs as well as possible.
The value proposition you sell through your offer must be optimised and you must find a way to stand out, make it unique in the eyes of prospects, meet a need and show the added value of your offer.
In order to convince your audience you must therefore take care of the formatting, content and highlighting of your content.
3 – A short and punchy title
This is the most important element because it is the first thing the reader sees. It should be simple and should attract the prospect's attention and curiosity. The shorter the better. Subheadings are also very important; the combination of the two can help the prospect in his reading and be more convincing.
A good headline should :
Hold the reader's attention and make him want to read on by showing them that it may be of interest to him

Reflect the proposed value proposition

Effective front-loaded headlines – value-first headlines
4 – Clear and concise content and attractive layout
The text should be short and to the point; it should provide the prospect with all the information he is looking for.
French readers are used to reading from left to right, so put the most important content on the left-hand side of your landing page.
The content of the landing page should meet a few criteria:
All information must be easily readable: use short sentences.

Highlight the most important elements for your target audience.

Use bullets to break up your content and make mini-sections.

Add images to support your words or videos to have a greater impact.

Be original as there are many landing pages out there, it is essential to stand out.

Visual content can be interesting for SEO: adding keywords can bring more traffic to your landing page, which is positive.
Each landing page is unique and brings something different to the reader. It should therefore be original in order to differentiate itself from all the other pages the prospect may encounter and reflect the company's image.
5 – Social proof for more credibility
Internet users trust other Internet users, so in order to add credibility to what you say, you can add customer testimonials, ratings or reviews, certifications, customer logos, and significant statistics.
6 – The call to action
The aim of your landing page, as mentioned above, is to make the prospect click on this button. The CTA button is the key element of your conversion. It is what will lead your prospect to the landing page.  
This should be clear and stand out from the rest of the landing page. Use an action verb, take care of its design and choose its size and position well; a central place will have a greater impact.  
In order for the prospect to stay on the page after clicking, it is necessary that the pre-click page and the post-click page match, otherwise the user will be disappointed and leave immediately after clicking.
Some examples of verbs for taking action:
Buy

Book

Find

Try it out

Join

Get Started

Win

Click here

Download

Submit

Apply

Sign up

Get…etc
7 – The form
It must be quick and easy to fill in, otherwise it may demotivate the prospect. The reader may click on the CTA button and then be discouraged by the complexity or length of the form.
To avoid this, remove anything unnecessary and allow pre-filled fields. But the more information your form asks for, the more qualified prospects will be for your offers, however, you will get less.
8 – Data analysis
After creating your landing page, it is necessary to analyse the data related to the performance indicators and to regularly carry out tests in order to see if it is possible to improve certain things and thus increase the number of leads from your page.
9 – Create a Thank you page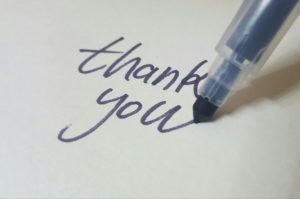 Once your prospect has filled in your questionnaire, you can go a step further by thanking him through a Thank You Page that opens after he has filled in the form. This leaves a final good impression on the prospect and sets you apart from all the other landing pages. 
Now that you have all the tips and elements you need to create your landing page, you can take action!
To create your landing page, you can either hire an agency that will charge you a few hundred euros. They will create your landing page using templates that you can choose from, while respecting your graphic guidelines.
But you don't need any specific knowledge, you can easily create your landing page using easy-to-use tools such as WordPress, Strikingly, Squarespace or Getlandy. These tools allow you to access ready-made templates that you can adapt with the information you want to communicate or create your own design from scratch. These tools are not free, but they will always be cheaper than using the services of a specialist company.