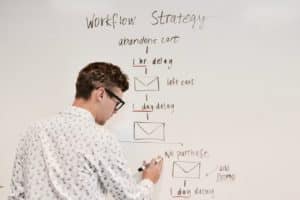 There are various marketing actions today to reach customers, emailing is the most effective practice in marketing; almost 9 out of 10 marketers use emailing to deliver content. In 2019, more than 293.6 billion emails were sent and received daily and this figure is expected to increase to 347.3 billion emails by 2022. This is why it is necessary to distinguish yourself from the "competition" and do everything possible to avoid your email ending up in spam.
In this article, we will tell you what emailing is and the various steps to take to produce an effective email. After reading this, you will have all the keys in hand to write an attractive email. 
What is emailing? 
An emailing is a direct marketing campaign that consists of sending emails to customers (current or potential) with the aim of making contact with prospects, acquiring new customers or maintaining a relationship with current customers in order to build loyalty. Email campaigns can be of several types: welcome emails, newsletters, news, promotional offers, etc.
Steps to writing a good email
Many people ask "How do I write an impactful email? "But whatever you want to write about in your email, there are certain criteria that need to be met for the email to have the desired effect. Indeed, a good email must arouse curiosity so that the prospect opens the email. Once opened, the customer must be encouraged to click on the various links. To achieve this, we are going to list the different steps to follow before launching into the writing of an email. 
1 – Define your objectives and your target
Before thinking about the content to be included in your email, it is essential to ask yourself what your objectives are:
Are you looking to acquire new customers?

Do you want to retain your current customers?

Do you want to improve your image?

or something else? 
In addition, in order to be sure that the information we want to convey to customers is perfectly understood, an email should contain only one piece of information. 
Once you have defined your objective, you need to identify your target audience: your personas (people whose needs and interests correspond to those of potential customers in order to better understand your target group and adapt the content) because the content will be different depending on the target audience and your strategy for reaching them will be different. It is therefore essential to obtain a minimum of information about your prospects: surnames, first names, title, sector of activity, position, company, etc.
2 – Choose the right software
There is a multitude of software to create your emails, so it is important to choose a software adapted to your objectives and your target. This software will not only allow you to create the design of your emails, to plan the sending but also to analyse the data linked to the sending of your emails such as the opening rate, the click rate, the bounce rate, etc.
At Adkomo, we use the Beepro software to create our email kits.
3 – The sender
Next, the person who receives the email must know who it comes from. The name of your company must therefore appear immediately and clearly so that the reader feels confident to open the email; 42% of consumers look at the sender name first when deciding whether to open an email.
A good sender name must meet certain criteria :
Avoid using a person's name, unless they're well-known
Company/brand names are fine
Use the title of a series or newsletter
The use of "do not reply" is not recommended
Some examples of good senders :
4 – The subject line: a powerful hook
The subject line is the most important part of an email as it is the first thing your readers see even if the email has not yet been opened. It is important to use precise wording that makes the reader want to open the email; this is what increases the click and open rate. For example, the good plan "-70%", the urgency "Only 2 hours left", the mystery "We thought it was impossible but…" or the question "How can I do…? ".
In general, a good object must respect certain rules:
Don't hesitate to personalise it with the reader's first or last name,

It should be relatively short: no more than 50 characters for a good display on mobile,

Be simple: readers must understand the subject of the email directly,

Propose a benefit for the customer: advantages, discounts, gains, news, etc.,

Avoid certain words that can send your email into spam: free, prize, gift, urgent, paypal, gambling, casino, etc
Some examples of good subject lines :
I was right and that's not good for you
13 email marketing trends you must know
We're starting in 5 HOURS
Missed you, how's Thursday ?
How 35 influencers grew their sites from 0-10K visitors
It's time to rethink Black Friday
5- Attractive content and an appealing structure
The content of the email must also respect certain criteria, it has to be : 
Interesting or informative: it must meet a need for the reader,

Concise: pay attention to the length of your email because if it is too long, the recipient will tend not to read it to the end or it will not be fully displayed on some mailboxes.

Clear: also add headings, bold words, bullet points and avoid large paragraphs to provide a pleasant, fluid, easy and quick read for your audience: you need to get to the point. Prospects will feel even more comfortable with your email if you keep your brand identity or graphic charter; especially the colours of your logo!

Unique or personalised: put yourself in the shoes of your prospects and ask the question "What are they looking for? "Personalisation is particularly good in an email, it makes the customer feel privileged.

Attractive: an email must contain images, complementary to the texts of the email, as they allow to air and brighten up your email. Be careful, however, not to insert too many images. 
6 – The call to action 
Once the prospect has clicked on your email and read its content, it is a question of encouraging him to click on the various links in the email. To do this, it is necessary to put visible links and buttons that make them want to click. The aim is to give him confidence and allow him to find out more about the subject you are talking about in your email. You should also use short sentences and a button with the same colours as your logo so that the prospect associates both. 
Some examples of good CTA :
Add to cart
Register
Subscribe to the newsletter
Read more
Try it now
Next
7 – The footer
This is the bottom part of the email. It is compulsory and contains the redirection links to sites or others but also the unsubscribe links and legal notices such as information on the RGPD. 
8 – The test before sending
Sending an A/B test of your email before sending it to your recipients allows you to be sure that your email is well displayed on all types of media, that it does not land in spam and that the various redirection links work well. Note that today, email is no longer read only on a computer, 61% of people read their emails on their mobile, a figure that has risen sharply in recent years. 
9 – Choose the right timing
The hour and the day are very important to the success of your email; the best time to send varies according to the target and the content of the email. Professionals will be more likely to open their emails from Monday to Friday during the day, whereas for individuals it is more likely to be in the evening and more particularly on Friday night.
10 – The email reminder
The quality of the email is not always the reason for the problem; sometimes it is necessary to send the email a second time in order to reach more readers. 
11 – Analyse the results of your email campaign
Finally, thanks to your software, the key performance indicators (=called KPIs) such as the opening rate, the click rate, the bounce rate, etc. must absolutely be analysed after each emailing campaign to measure if it was a success or not and to be able to think about how to improve the following campaigns for better KPIs.
Thus, as you have seen previously, many rules must be respected in order to propose an effective email. The more you adapt your email to your target, the better it will be received by your audience and the more positive impact it will have.
HOW CAN ADKOMO HELP YOU? 
Adkomo Convert helps brands acquire new qualified leads and convert prospects into loyal customers. Our unit benefits from a wide range of partners allowing the implementation of cross-channel campaigns to reach your customers on any media.
Thanks to its experts, Adkomo creates email kits for many customers according to their needs, their expectations but also their budget. In accordance with the current best practices, we make sure your emails get delivered to ensure your objectives are reached.
In addition to email marketing, we also have a mobile department that helps app developers acquire qualified and engaged mobile users. Using our own tracking technology and renowned third party partners, we manage your campaigns on the Adkomo network, consisting of thousands of traffic sources optimised in real time according to your key performance indicators.
———
Feel free to follow and contact us on our different social networks: Twitter, Instagram, Facebook & Linkedin.