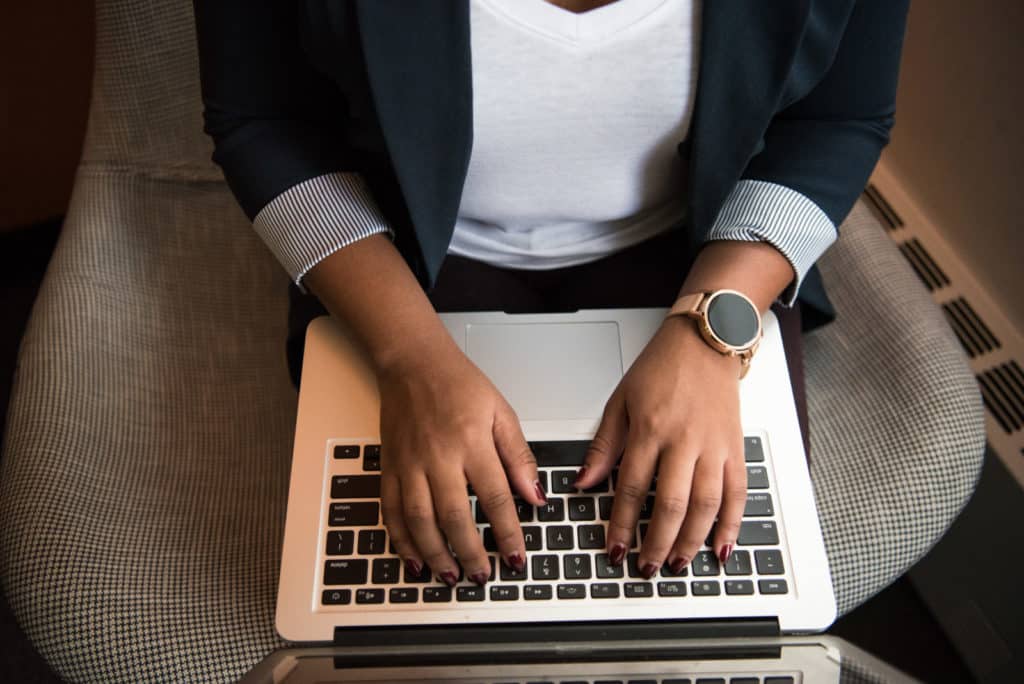 Your email is ready but you don't know when to send it? Whether in B2B or B2C, in order to optimise the performance of your emailing campaign (click-through rate, open rate, etc.), it is necessary to choose the right time to send your emails. We give you some advice on how to choose "THE MOMENT" to open your emails.
The right timing for sending an email so that the prospect opens the email and clicks, depends on several factors:
The target: behaviour, habits, preferences…

The business: B2B or B2C

The sector of activity

 The analysis of the returns
1 – Analyse your target
First of all, you need to study your target; it is essential to know how your audience lives and works. To do this, we need to put ourselves in the recipient's shoes and ask ourselves various questions:
How old is our target?

What are their working hours?

When are their leisure times or times when they can't check their emails?

When are they most likely to check her email?

When will they spend time on their phone or connected device?

How many times do they check their email per day?

Do they use their mobile during commuting times?

…etc
2 – Distinction between B2B and B2C
The right timing will be different if you are in B2B or B2C. People do not use their business mailbox at the same time as their personal mailbox. The best day and time to send emails has always been a matter of debate. We will therefore try to shed some light on this subject.
→ In B2B
It is important to send emails during office days and hours (8am – 6pm) because in general we don't work on weekends, even if there are exceptions. Weekends are meant to relax after the working week so people enjoy and don't work: these two days allow you to disconnect, so your readers will not read your emails. Also avoid sending work-related emails on holidays. Weekend emails have the highest unsubscribe and complaint rates and some studies have shown that sending emails on weekends has a negative rather than positive impact.
Monday mornings should be avoided, or rather Mondays in general

, as this is often a time of meetings in companies for people with responsibilities and people often sort out the many emails accumulated over the weekend and plan their week. I'm not saying that your email won't be read, but people are more likely to sort out the most important from the rest in order to keep the most important, so

your email is likely to be deleted.
On

Wednesdays, many parents have to look after their children

, so they pay less attention to work-related emails.
As for

Friday

, between those who are already thinking about what they are going to do during their weekend and those who have taken the day off, emails are generally neglected. So

there is no point in sending emails to your customers at the end of the week

as they will forget about your offer over the weekend.
It is important to find the right moment for a better visibility in the mailbox among the many emails already present. To do this,

send emails in the morning rather than in the afternoon

so that they arrive at the top of the recipient's mailbox.
Thus,

Tuesday and Thursday seem to be the ideal days to send your emails.

Tuesday has the highest open rate (19.9%). However, many actors in all sectors have understood the value of these two days. Many emails are therefore sent on these two days (2/3 of emails), so it is necessary to differentiate yourself from the competition.
As far as the timetable is concerned, different slots are to be favoured.

Between 8am and 10am:

The opening rate can jump to 39%.

Between 10am and 12pm:

According to studies, whether in B2B or B2C, this is the ideal time to send emails.

Between 2pm and 3pm:

Marketing agencies report a rate of 35% between 2pm and 3pm.

Between 4pm and 6pm:

The open rate is 24%.

Between 6pm and 9pm:

People with responsibilities often end their day by checking their emails, but not too late.
→ In B2C
Individuals read their personal emails either

early in the morning/at breakfast, before going to work, in the evening after work or the weekend

, so more precisely

before 8am and after 7pm on weekdays and between 9am and 8pm at the weekend

. It may happen that they check their emails from time to time during the day, for example during breaks and lunch.

 
If it is an

informative campaign, prefer the morning

, whereas for a

marketing and sales campaign, the evening

is more appropriate. Readers prefer to get information in the morning and buy in the evening. And if

the campaign is aimed at women, opt for Wednesdays;

mothers have in general their children. If they are less preoccupied with work on this day, they are more likely to look at marketing and sales offers. In addition, consumers plan their shopping or dining out day just before the weekend which is interesting for emails from marketing agencies, e-tailers or tourist establishments.
When it comes to time of day, different time slots are to be preferred.

Between 6am and 8am:

Checking emails when waking up and having breakfast, mainly on smartphones and tablets.

At 10am:

According to studies, this is the ideal time because it is the morning break.

Between 12pm and 2pm:

This is the lunch break, people check their emails during the break.

At 4pm:

This is the afternoon break time.

Between 6pm and 9pm:

Individuals have time to relax after their working day.
3 – Adapt to the sector of activity
Sending an email on a certain day may have a positive return for one sector of activity but may have a negative return for another. It is therefore essential to adapt the day and time of sending according to the sector of activity. For example, the open rate is 20% for B2B and e-commerce companies on Mondays, or on Wednesdays, the open rate is 20% for emails from marketing agencies, e-commerce companies or tourist establishments.
Experian CheetahMail has produced a table showing the days with the highest open rates, click-through rates and reactivity rates, and the days to be avoided according to sector.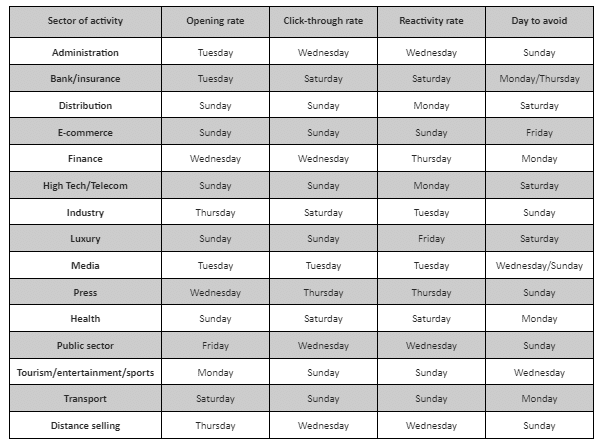 Pure 360 produced a table showing the hours with the highest opening rates by sector.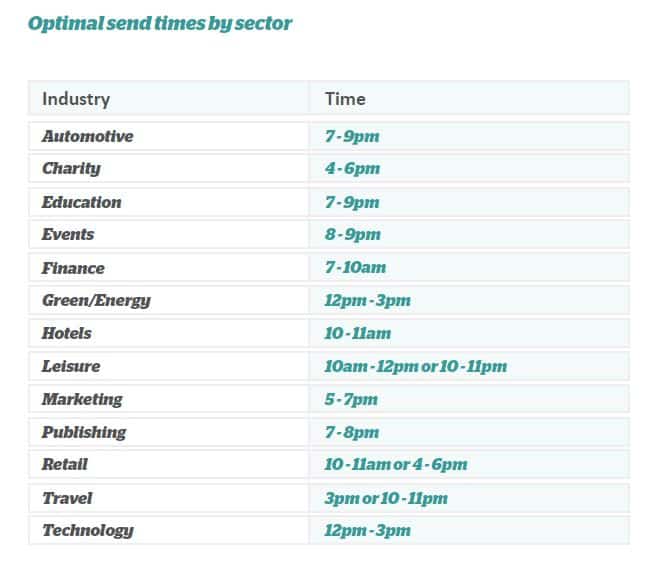 4 – Try different times and analyse the returns
The best way to find out which time of the day is best for your emailing campaign and which is most suitable for your prospects is to carry out A/B tests to determine the most engaging and optimal time slot for the reader.
In order to measure the returns of your campaigns, different data must be analysed:
The opening rate

The return rate

 The click rate

etc.
This allows you to see if the campaign has worked or not and to adapt for the following campaigns.
Thus, choosing the right time to send emails is essential to have positive feedback on your emailing campaign. However, we cannot generalise and define an exact day and time that is the best time to send an email. Indeed, this favourable moment will be different according to the different factors mentioned above: the target, the type of business, the sector of activity or the nature of the campaign. It is therefore essential to analyse these different factors and to carry out test mailings on different days and at different times to find out when your campaigns will be effective or when they will not be effective in relation to your prospects. Depending on your target, you will need to adapt the day and time and differentiate yourself from the competition.
However, the choice of day and time to send the email is not the main determinant of any email campaign. The definition of the objectives, the content, the design or the titles are equally important. You can find these details in our article "How to make a good email so that it is well delivered?"